Pharmacovigilance in Clinical Trials
Safety management is key to any clinical trial and an utmost obligation to any pharmaceutical company introducing new medicinal products to the market. Whilst conducting a clinical trial, the safety of all subjects is paramount, therefore best efforts should be made to capture any safety issues.
Sponsor's Safety Obligations
Each Sponsor is obliged to submit to among others Competent Authorities (CAs) / via EudraVigilance system all suspected serious unexpected adverse reactions occurring after administration of the Investigational Medicinal Product (IMP) in an expedited manner. An individual Suspected Unexpected Serious Adverse Reaction (SUSAR) is a case report describing an adverse reaction to a subject that is:
associated with the use of DMP,
considered serious (fulfilling at least one of the criteria for seriousness, i.e. results in death, results in congenital anomalies or birth defects, results in persistent or significant disability, is life-threatening, requires or prolongs hospitalization),
considered unexpected – has not been described in the current version of Reference Safety Information and Investigator's Brochure at the time of reaction onset.
Life-threatening and fatal clinical trial SUSARs need to be reported to regulators within 7 calendar days, other SUSARs have a 15-calendar-day deadline. The considered Ethics Committees and trial Investigators should also be made aware of all SUSARs.
Quality and medical reviews are needed in each report. Regulatory requirements in each trial territory should also be considered for efficient and compliant safety reporting.
In the case of studies lasting at least 1 year, all serious case reports from the study need to be evaluated and reported in periodic reports – Development Safety Update Reports (DSURs). Each DSUR has to describe all newly available safety information received for DMP in the concerned annual period, starting from the first approval for conducting the clinical study.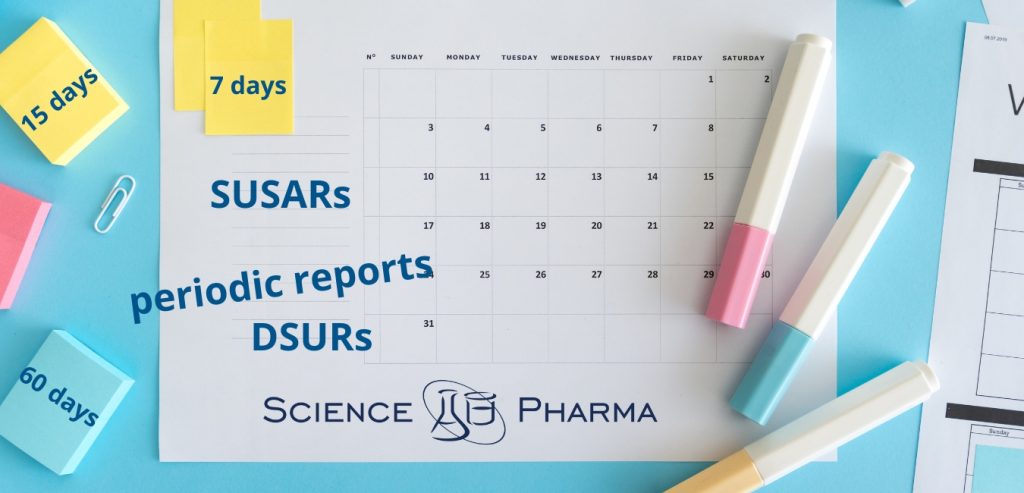 Timely submission of periodic reports is as important as reporting SUSARs, as of today, the deadline is 60 calendar days from data lock point. Good quality data gathered throughout the concerned period is key for evaluation and providing satisfactory conclusions.
Why is it worth outsourcing pharmacovigilance in clinical trials to SciencePharma?
We have considerable experience in the safety management of adverse reactions from clinical trials. We can create and implement safety procedures. We manage Adverse Events (AE) including case narrative writing and recording in the safety database, together with MedDRA coding. Moreover we prepare and send follow-up requests, expectedness assessment of Serious Adverse Reactions (SARs), complete standard reporting forms (CIOMS I), report SUSARs to the National Competent Authorities (NCAs), Ethics Committees (ECs), submit SUSARs to EudraVigilance Clinical Trial Module (EVCTM) database, as well as prepare and submit Development Safety Update Reports (DSURs).
Maintaining safety within clinical trials is of paramount importance to any pharmaceutical company. Choosing an experienced safety vendor is an essential step towards successful clinical trial performance. With our considerable experience, SciencePharma may advise and support clients with PV services tailored to fulfill safety goals.
If you want to put the safety of your clinical trials in good hands, please contact us.